Lorene Yoshimura-Tanigawa, 
Aloha from beautiful Honolulu, Hawaii!   Thank you for visiting my site!
I was born and raised in Hawaii on the beautiful island of Kauai.  Currently, I call home on the island of Oahu.
As a child, I remember folding and creating tsuru or Japanese origami crane for special occasions such as Yakudoshi parties and weddings, from specialty foiled paper.  For Christmas, my grandma gave us crochet or quilt blankets and my Aunty gave my Mom pot holders, crochet top towels to hang on one's  refrigerator or stove.  One year I dabbed a little in plastic canvas and created a square tissue box cover.  During my Mom's illness, she mostly stayed indoors and was not able to see her orchid plants.  Creating a bowl of orchid pens for her bedroom table gave me great pleasure as she admired them daily.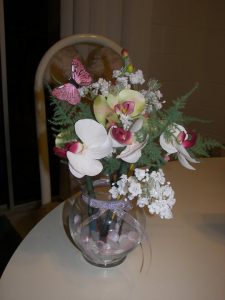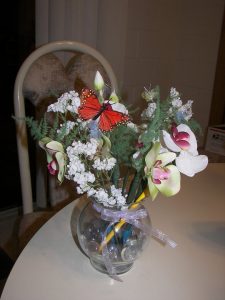 Through the years, I found myself creating plastic canvas tissue box holders for Christmas gifts.  Pictured below is a tissue box holder for a special golf group.  I took a group photo and incorporated it into the holder with a clear acetate sheet in front to protect the photo.  The embellishments were found at our local craft store.
I guess growing up around old custom ways had a hand in my passion for crafting.  In 2012, due to my neck surgery and vehicle accident, I found myself attending card making classes at our local craft store, Ben Franklin.  One of the ladies, a Stampin' Up Demonstrator, gave me a Catalog to browse.  I was amazed at how a plain sheet of ordinary card stock could become a beautiful masterpiece of art.  I immediately became a Stampin' Up! Independent Demonstrator and have been enjoying creating greeting cards and altered crafts.
My motto is:  if it can be covered, I will creatively find a way to cover it.
I hope to inspire you with my passion for crafting using not only Stampin' Up! products but other manufacturer's products as well.
If you are you looking for crafting inspiration, tips, tutorial, stamping techniques, crafting supplies, please bookmark my site and visit my Online store to purchase your stamping supplies.
Happy Crafting!
DISCLAIMER
The content of this blog is the sole property of Lorene Yoshimura-Tanigawa, (Create With Lorene) Stampin' Up!® Independent Demonstrator. Products and services offered here are not endorsed by Stampin' Up!
All content is shared for personal use only.